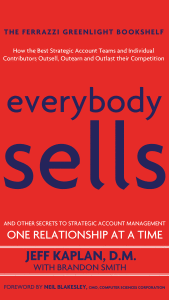 Outsell, out-learn, out-earn and outlast your competition with Dr. Jeff Kaplan's latest book, Everybody Sells!
Success is all about people.
Its great to have a great strategy…
Its great to have great people…
But being a GREAT organization is all about how your strategies and people interact.
Winning in today's hyper-competitive business environment requires that we get the most out of every resource…
Wether you are a senior leader or entry level, winning requires that everyone understands they have a role to play and a contribution to make.
In short, Everyone Sells!
READ AN EXCERPT
The CEO started the meeting by saying, "I'm so glad that all you are here today. Glad you could be in this auditorium.
"I just want to know about the composition of the group here. How many of you are in sales, field sales, direct sales?" About a third of the people raised their hands. He continued, "Please keep your hands up, because I'd like everybody else in the room to give a big round of applause, because without you, we wouldn't be here. Thank you so much for your hard work and dedication. Keep your hands up for now, please.
"Now, how many in this room are sales support? About another third. That's fantastic, too. Everyone in sales so appreciates you folks in sales support, because without you, they couldn't do what they do. Without them, we wouldn't be here, so thank you very much as well."
He then paused meaningfully for a beat and spoke deliberately but clearly.
"If you haven't raised your hand, you're excused. You can go back to your cubicle. I would suggest you start working on your resume, because in our organization Everybody Sells."
There was absolute silence in the room. He was making clear to everybody that, in this no-slack business environment, we must leverage every conceivable resource to drive the economic engines of our organizations.
Download a Free Chapter of the Book here: Everybody Sells Sample
Order your copy of Everybody Sells at: www.lulu.com